"The art of tennis is control and restraint, and putting the ball where the other guy ain't"

Before developing a game dependent on strategy first a player must have the strokes that will get the ball over the net. Hitting with depth is the second necessity. Limiting the number of options is the third. Overall strategy and point-to-point tactics are over rated for most players
Tennis is a game of skill. It requires as much thinking and planning as stroke production. And it can give you as much or more fun from outfoxing opponents as you can get from whacking the devil out of the tennis ball.- William Talbert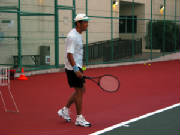 THE AIM OF THE GAME:

There are only three principles in tennis. All of the
rules
are just details to support these three principles.
Principle One:
You must get the ball over the net.
Principle Two:
The ball must land in the court on your opponent's side of the net.
Principle Three:
Move the ball at the desired speed, angle and condition.
If you always do these three things, guess what? It is almost impossible to lose! All you have to do is get the ball over the net and into the court one more time than your opponent, and you're practically unbeatable.
Sounds simple enough, doesn't it?
It's mental prowess. In tennis, strategy is just playing the game of tennis the smart way. While athletic prowess generally triumphs over mental prowess and the challenge of outfoxing their opponents.
But to do that, you must know more about the game than you can fit on the back of post card.
You must see things that the uninitiated don't notice.
Strategy is a systematic approach to winning.
Like a basketball team's game, a tennis's game is an integrated offense and defense. It includes a game plan and special plays. For example, a basketball team's game comprises a regular offense and defense, which are basketball formations played strategically. It also includes a variation or two and some special plays, like in-bounding plays, jump-ball plays, a fast-break, a press, a press-break, and so forth.
All of these "parts" of the team's game are components that go together to make a system.
The Art of War ~~ "All can see the tactics whereby I conquer, but what none can see is the strategy out of which victory is evolved." — Sun Tzu